Meet the LACOSTA Team
Phil Jackson said it best: "The strength of the team is each individual member. The strength of each member is the team."
Meet some of the team at LACOSTA Facility Support Services below:
Rob joined LACOSTA over 30 years ago and excels as the CEO because of his extensive knowledge in Site Operations and desire for long term customer relationships. He attended the University of Illinois before joining the Facility Services Industry in the late 80s. As one of LACOSTA's most humble team members, Rob has exceptional knowledge and experience in the industry… But you'll never hear him bragging about it.
His Superpower: he's a pilot!
Rob Johnson
CEO and Owner
Karla Johnson has a strong entrepreneurial spirit and passion for people that have proven to be key drivers of LACOSTA's success. Inspired by her mother and father's property management and cleaning business in the 70s, Karla founded LACOSTA in 1987 and has been steadily growing the company since. Karla attended Ripon College for her undergraduate degree before attending Northwestern's Executive MBA program.
Her Superpower: she was called the Queen of Clean by her early customers and was even gifted white inspection gloves.
Karla Mota Johnson
President and Owner
Jaime has 5 years in the janitorial industry and 15 years of multi-site management and training to keep improving our client's results!  Jaime is Diversey Floor Care certified – Hard Floor Care, Carpet Care; Matting Analysis, OSHA 10, and Restroom Cleaning Certified (ISSA).
Her Superpower: The ability to see the strengths in people and build upon those strengths to guide them into being the leader they were meant to be and achieve outstanding results.
Jaime Harlen
Senior Director of Operations
With a degree in business from The University of Mississippi, Mike has 23 years of experience in contract labor services and 15 years in finance. Mike has worked with the LACOSTA team for 15 years. He is a certified Lean Six Sigma Green Belt and in OSHA 10 and 30 standards.
His Superpower: the ability to spot problems just by walking a site.
Mike Parks
Director of Operations
Jason brings over 20 years of senior management and leadership experience within sales, marketing, and manufacturing/operations to the LACOSTA team. He holds a Bachelor's degree in electrical engineering and a Master's of Business Administration in addition to being Six Sigma certified.
His Superpower:  Prepare and bring to life the potential for people, strategies, and systems to accomplish great things.
Jason Gscheidmeier
Director of Specialty Services, Industrial Cleaning, and Sanitization
Jeff joins the LACOSTA team with over 30 years of finish trade experience, and an OSHA 10 and Lean Six Sigma Green Belt certification! 
His Superpower:  The ability to provide customers with timely, cost-effective solutions for their special needs, no matter the size or scope.
Jeff Maes
Specialty Division District Manager
Genevieve has been with LACOSTA for over 3 years, beginning her career as an Operations Manager and eventually working her way up to Senior Operations Manager and then to District Manager.  She is a hard-working, dedicated team member who always looks to do her best to help everyone around her.  
Her Superpower: Dedicated – I never back down from a challenge and always strive for continuous improvement while seeing a task
through to the very end.
Genevieve Walls
District Manager
Russ joined the team in 2022 and brings a great attitude and deep industry experience to the role. His knowledge and determination have made him a great addition to the LACOSTA team.
His Superpower: The power of super resilience to see any task through
Russ Engler
District Manager
Travis has been with LACOSTA for 2 years and brings over 7 years of Industrial Sanitation experience to the role. He is OSHA-30/HAZWHOPPER-40 certified and also holds certifications in Forklift/Skid steer/Vac Truck rigging.
His Superpower: I am a fish whisperer and can catch any type of fish on any given day!
Travis Jewell
District Manager
LeRai has been with LACOSTA for over 4 years and combines a wealth of knowledge with boundless energy to provide top-level service for LACOSTA and its clients. LeRai is a graduate of Calhoun College and holds an OSHA 10 certification.
His Superpower: I'm a team building master, like Nick Fury bringing the Avengers. Together I love taking different people and putting them into positions where they can excel. As well as being the life of the party, I always bring the ENERGY!
LeRai Hicks
District Manager
Jared has a long history as a LACOSTA team member, starting as a General Cleaner (since 2008) and working his way up to positions of increasing responsibility. He is currently a Training Transition Manager, where his positive attitude and strong work ethic not only allow him to excel, but also help others to improve their own careers.
His Superpower: A master of manifestation and mindfulness with the ability to see the positives in any situation.
Jared Robinson
Training & Transition District Manager
Matthew has over 20 years of experience in various roles in Manufacturing, including Process Engineering, IT, and Operations Management. His unique skillset and deep industry experience make him a perfect fit for the compliance and process improvement role.
His Superpower: A unique blend of traits for that perfect cocktail of results. He's just sweet enough to take out the bite but still pack a punch!
Matthew Roosa
Compliance and Process Improvement Manager
Jeff joined LACOSTA in 2011 as a Lean Process Coordinator, but quickly earned his operational stripes when he was tapped to fill a District Manager position. After 2.5 years of managing delivery in LACOSTA's Midwest District, he was promoted to Regional Director before becoming the National Sales Director in 2017 and National Business Resource Director in 2020. Jeff is a certified workload specialist and works directly with many new customer relationships. Jeff graduated from the University of Kentucky where he majored in communications and minored in English.
His Superpower: price breakout wizardry!
Jeff Johnson
National Business Resource Director
Lauren joined the LACOSTA family in 2021 bringing an amazing attitude, sales experience and customer service skills that are unmatched. Lauren studied at the University of Alabama in Huntsville and is proud to have them as a LACOSTA customer today.
Her Superpower: Southern Hospitality – Lauren's Cajun roots and southern charm put everyone at ease instantly.
Lauren McCauley
Sales Representative
Austin joined LACOSTA in 2020 bringing over 4 years of inside sales experience to the team, ensuring we're connecting with the right businesses that we can provide the best results for.
His Superpower: Can make anyone smile in just seconds!
Austin Rogers
Inside Sales Developer
Danni joined the team in 2019 and has been a valuable employee since her first day. She has exceptional customer service skills, maintains customer portals like a pro and answers RFP's  like a boss!
Her Superpower: The ability to see through the legal jargon in a service agreement with her x-ray vision.
Danni Cantu
Sales & Contract Administrator
Sabrina joined LACOSTA in February 2022 with over 10 years of experience in management and training. Her passion for relationship building and having a true understanding of the people who are being trained have been a key reason why she has been so successful in her many years of experience.
Her Superpower: Relationship Builder  – Sabrina is completely focused on the learning and the learner, building authentic, lasting connections
Sabrina Powers
Training Development and Procedures Controller
With over 5 years tenure on the LACOSTA team and extensive experience in training and development. Yahaira specializes in training program design, as well as LMS development and administration.
Her Superpower: super speed and the ability to create training modules like there's no tomorrow.
Yahaira Espinoza
Training & Communication Specialist
Before joining the LACOSTA team in 2020, Monica had spent over 5 years in various industries serving HR/Payroll positions!
Her Superpower: Payroll magician. Gets the job done faster than you can say "abracadabra."
Monica Carrera
Payroll Supervisor
Martha joined LACOSTA in 2021 with multiple years' experience payroll processing, accounts payable processing and accounts receivable processing. Her associates degree and accounting certifications are used each day as she ensures accurate and timely payment to our team members.
Her Superpower: Energy – She is like the Energizer Bunny and just keeps going!
Martha Nordin
Payroll Specialist
With a Master's in Statistics and Applied Economics, Kahina is a five-year veteran at LACOSTA. Our financial team benefits from Kahina's prior experience in janitorial, cleaning and labor services.
Her Superpower: finding a solution for every problem.
Kahina Zanoune
Senior Accounting Analyst
Alejandra has been with LACOSTA since 2015, starting in a role as a Staff Accountant and working her way up to Accounting Manager. She has over 13 years of accounting experience and is a graduate of DePaul University
Her Superpower: Seeing the positive in everyone
Alejandra Garza
Accounting Manager
A tenured member of our LACOSTA team, Lesley has been with the company for 14 years. Before joining the team, Lesley received a Bachelor's degree from Montana State University, then spent some time in Texas and Colorado in sales support and customer admin roles.
Her Superpower: as a LACOSTA recycling queen, she isn't opposed to pulling stuff out of the garbage in order to recycle.
Lesley Salvon
Accounts Receivable Specialist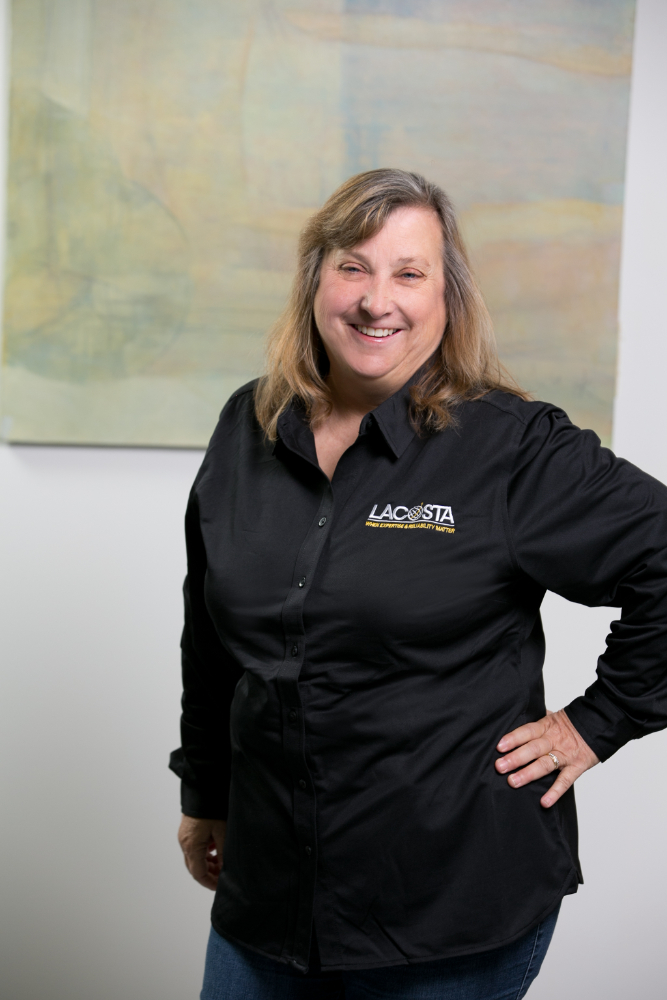 With over 35 years of accounting experience, we couldn't be more excited to welcome Wanda to the LACOSTA team!
His Superpower: A smile that can even warm a Grinch's heart.
Wanda Siiro
Accounts Payable Specialist
Raj has worked with LACOSTA for over 9 years and excels at sourcing and retaining exceptional talent for LACOSTA and its clients. With an MBA from Northcentral University and experience in the education field, Raj brings a diverse wealth of knowledge to the LACOSTA team.
Her Superpower: the ability to find the perfect employee for an open position while standing on one leg.
Raj Kaur
Executive Recruiter
Nathen has worked at LACOSTA since 2011 and has over 4 years of experience in sales and digital marketing. He is a graduate of The George Washington University with a Double Major in Psychology and Entrepreneurship
His Superpower: Loving a good challenge (and kickboxing!)
Nathen Johnson
Recruiting Manager
Brittany has been with LACOSTA since 2022. She has experience in Recruiting, Social Media Marketing, Sales, and Management and her positive attitude and strong work ethic make her a valuable addition to the team.
Her Superpower: The ability to relate to others and create positive interactions both in the field and when working from home.
Brittany Saben
Lead Recruiter
Mac has been a LACOSTA team member since 2022. Currently a member of the recruiting team, Mac has experience in a wide variety of roles including as a sales leader in home security, supporting and leading a warehouse team, and as a customer care service provider.
His Superpower: The ability to manage complex systems and drill down to create solutions (and whip up a delicious meal!)
Mac Jump
Recruiter
Leah is a former teacher who assisted during the pandemic with students of various ages and needs. She is also an entrepreneur who started her own business as a licensed roofing contractor. She holds a BA from Bradley University and two master's degrees, one from St. Xavier University and one from National Louis University
Her Superpower: Resiliency – I pride myself on my ability to withstand and/or recover quickly from difficulties. The most successful people see adversity not as a stumbling block, but as a stepping stone to greatness.
Leah Link
Recruiter and Project Specialist
Jenna is a new addition to the LACOSTA team. She has a background in both customer service and human services within a wide range of industries and is working towards her Bachelor's Degree in Human Resource Management and Business Administration.
Her Superpower: Continuing my education while learning how to improve professionally. By efficiently communicating, I can juggle school, work, coaching, and leading my college cheerleading team.
Jenna Powers
Recruiting and Engagement Specialist
Christian has been with LACOSTA since 2023. He has a strong background in customer service with over 5 years of experience.
His Superpower: Dedicated learning
Christian Gomez
Recruiter
Lakezia has been with LACOSTA since 2023. She has been a manager of medical recruiters for 15+ years and has worked in human resources for 20 years.
His Superpower: Data and process driven, life long learner and the ability to get it done!
Lakezia Andrew
Field Recruiter
Allison has been a LACOSTA team member since 2022. She has multiple years of experience in customer service, data entry, and admin related fields.
Her Superpower: Super detail oriented. Can spot errors within seconds and produce employee numbers with ease!
Allison Paez
Recruiting Administrator
Bravo is more than just the mascot for LACOSTA, as Bravo embodies the true spirit of our team members. On the interior, Bravo is a compassionate human spirit who cares for our customers, fellow team members and creating a better work-place. Bravo also has a superhuman exterior that ensures our customer sites are always clean, healthy, safe and efficient. In fact, Bravo was named after the many cheers that customers would give after LACOSTA performs services … BRAVO, BRAVO!!
Bravo